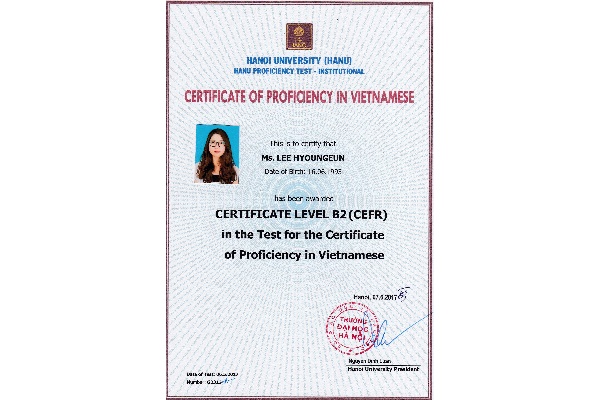 Intermediate
I. Reading skills
Level
Descriptions

B1

1. Can understand the attitudes, evaluations and messages from a writer in a clear layout, close to the background knowledge and personal experience.

2. Can presume some new words based on the context.

3. Can understand the program schedule in daily work.

4. Can read short stories having a simple plot.


B2

1. Can capture and understand the main ideas of complex texts on most social issues, including debates in the field of their professional careers.

2. Can read articles and reports related to current problems in which the writer refers to attitudes or opinions.

3. Can understand episodes of some modern literature proses.

4. Can acquire information and important details to use even if the student is still having trouble with some idioms and native cultural elements.
II. Listening skills
Level
Descriptions

B1

1. Can understand the gist of information expressed with standard voice-related topics about everyday life or careers.

2. Can understand the gist of a presentation expressed clearly in familiar problems at work, at school, or in entertainment areas; Can track a lecture within familiar topics and simple structures.

3. Can grasp the gist of a number of television programs or radio played at a slow, clear pace on contemporary issues and personal interest topics.

4. Can understand simple technical information, such as operating instructions for common devices, traffic alerts and directions.

5. Can track and understand the gist of the debates, various conversations about familiar problems with standard and clear speech.

6. Can follow some movies with simple callouts.

7. Can understand more limited colloquial terms and idioms.

B2

1. Can track and understand the natural dialogues between native speakers; Can try to capture most content even if having difficulties in communicating with natives when they are not adjusted for appropriate language use; Can understand the purpose of language level and accent of the speaker.

2. Can understand and grasp the general ideas of relatively long general speeches or lectures; Can monitor and understand arguments or complex debates with familiar topics.

3. Can understand most radio and TV programs about familiar topics about social life, careers and academics (such as news, current affairs, documentaries, interviews, magazines and plays) as well as understanding the majority of films which use standard language.

4. Can understand in detail stories about their field of expertise and topics of mutual concern in everyday life using expressions and familiar idioms.

5. Can understand conceptual words and expressions.
III. Speaking skills
Level
Descriptions

B1

1. Can participate in social exchanges confidently without prior preparation on familiar topics.

2. Can use; common everyday life expressions, idioms and familiar structures with clear articulation.

3. Can create a talk about simple topics such as social life, services, tourism, economics, culture, science and express attitudes and feelings.

4. Can participate in interviews related to topics in the fields of economics, culture and sociology.

5. Can summarize observations; Can narrate a story or plot of a work or a movie.

6. Can actively participate in discussions, express opinions and the advantages and disadvantages of a particular problem.


B2

1. Can spontaneously and confidently communicate in most everyday social situations.

2. Can argue to protect personal views in a convincing way.

3. Can adjust communicative behavior to suit the requirements of a situation with solemn rituals.

4. Can narrate relatively complete news documentaries and reportage after hearing or seeing them.

5. Can use, in a flexible way, diverse structures and varied vocabulary from concrete and abstract expressions to achieve the purpose of language.
IV. Writing skills
Level
Descriptions
B1

1. Can fill forms, long tables (experience introduction, ability, personal forte, resumé, temporary registration and certifications)

2. Can build a text based on a given outline on familiar topics.

3. Can write some essays about ideas, emotions or personal experiences.

4. Can write a mail transactions courteously with simple contents.

5. Can describe experiences and events, dreams, hopes and desires and can give personal reasons or a brief explanation of views or future plans.


B2

1. Can write articles with clear contents and layout about different topics and points of view.

2. Can write normal daily tasks (eg, inquiries, cover letters) and private or formal messages.

3. Can check articles using effective sentence structures, common idioms and proverbs.

4. Can fill complex sample tables.